What is a Porcelain Crown?
The need for porcelain crowns has increased lately because our teeth go through large amounts of stress due to trauma, heavy clenching and grinding. Over time this stress causes our teeth to weaken and greatly increasing the chances of fractures. In order to prevent these fractures, dental porcelain crowns or onlay are often advised by dentists. Dental crowns cover the entire outer surface whereas the onlay covers only where the fractures are. These types of restoration processors improve both the aesthetics and the natural function of the tooth. The restoration protects the tooth structure from fracture using high strength dental ceramics.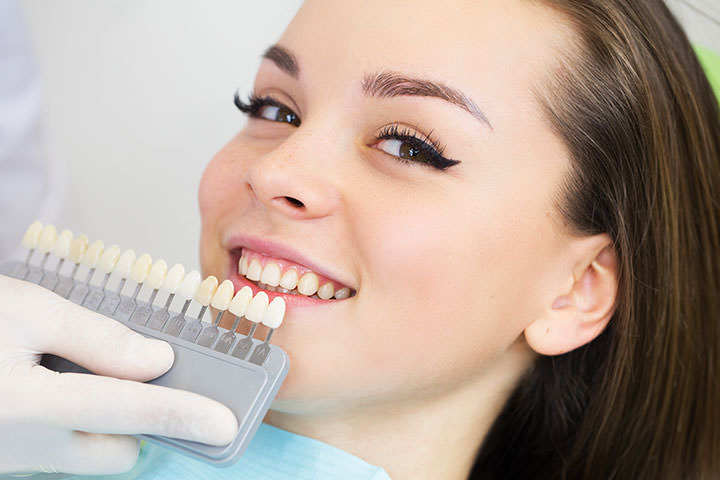 What does getting a crown involve?
A crown procedure usually requires two appointments. Your first appointment will include taking several highly accurate molds (or impressions) that will be used to create your custom crown. A mold will also be used to create a temporary crown which will stay on your tooth for approximately two weeks until your new crown is fabricated by a dental laboratory.
While the tooth is numb, the dentist will prepare the tooth by removing any decay and shaping the surface to properly fit the crown. Once these details are accomplished, your temporary crown will be placed with temporary cement and your bite will be checked to ensure you are biting properly.
At your second appointment, your temporary crown will be removed, the tooth will be cleaned, and your new crown will be carefully placed to ensure the spacing and bite are accurate.
You will be given care instructions and encouraged to have regular dental visits to check your new crown.
Should I get a Porcelain Crown?
At Dr. Sharp Dentistry a porcelain crown is only suggested to a patient when one of our expert dentists has extensively examined your mouth and is convinced that certain teeth have a high probability of fractures or damage. Patients will be advised as to the best course of action as each individual case is different. All recommendations are made in the best interests of our patients and will be clearly explained and discussed with you before any treatment proceeds. We consider ourselves to be conservative dentists and all restorative options will be discussed.
A porcelain crown is a dental restoration that encapsulates a tooth, giving patients the protection against many of the harmful agents we place in our mouth on a daily basis. Extreme temperatures (hot and cold), hard or tough foods, or acidic fruits and drinks damage our teeth over time. If you experience sensitivity or discomfort a dental crown may be the answer to your problems. However, they are not inexpensive; we believe that cost should not stop patients from protecting their teeth or from enjoying the finer things in life. This is why we provide this service at a reasonable rate. We proudly served the local community for over three decades and continues to assist patients from Fisher Island, Miami Beach, Key Biscayne, Coral Gables, Pinecrest