COSMETIC DENTISTRY IN MIAMI
Best Cosmetic Dentists in Miami, FL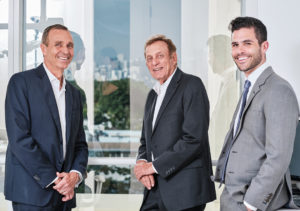 Are You Dreaming Of A White Smile? Whether You're Interested In Teeth Whitening Or A Full Smile Makeover, You Can Realize Your Goals With Cosmetic Dentistry Services At Sharp Dentistry & Associates, Led By Bruno Sharp, CD, MS, DDS, In Coconut Grove, Florida. Want To Experience The Difference That Advanced Cosmetic Dentistry Training And Experience Make? Book An Appointment With Dr. Sharp's Team Online Or Over The Phone Today.
What is cosmetic dentistry?
Cosmetic dentistry is a branch of dentistry dedicated to beautifying your smile while improving its health and function. Bruno Sharp, CD, MS, DDS, can use cosmetic dentistry correct and repair:
Broken and cracked teeth
Teeth ravaged by decay
Discolored and stained teeth
Crooked teeth
Missing teeth
With cosmetic dentistry you can fix one tooth or all of them — the possibilities are (nearly) endless.
What is a smile makeover?
A smile makeover is the complete revitalization of your smile. To remake your smile into a dazzling thing that you want to show off, Dr. Sharp begins your cosmetic dentistry journey with a consultation. During this consultation, he discusses with you your questions, concerns, and goals for your smile. Dr. Sharp and his team then consider several different variables, such as:
Teeth size, color, and alignment
Gum tissue size and shape
Facial appearance
These variables help them assess how to best customize the length and proportions, shape, and color of your new teeth.
To support the creation of your beautiful, natural-looking smile, Dr. Sharp also takes a 3D panel picture of your mouth.
Finally, based on your preferences, oral features, and facial structure, the team develops an action plan for your smile makeover.
What types of cosmetic dentistry services can improve my smile?
The team at Sharp Dentistry & Associates offers a variety of cosmetic dentistry services, including:
Invisalign®
Invisalign aligners are custom-made, clear aligners that straighten your teeth over time. While they work similarly to braces, Invisalign aligners are more comfortable, attractive, and work faster than their traditional counterparts.
Teeth whitening
Dr. Sharp offers both in-office teeth whitening, where you can lighten your teeth by several shades in one visit, as well as with at-home kits.
Cosmetic fillings and bonding
Dr. Sharp can efficiently fix small imperfections in your teeth (e.g., cracks, chips, and small cavities) with fillings and cosmetic bonding. He can also employ bonding to lengthen your teeth or to fill in small gaps between teeth.
Dental implants
Dental implants are artificial tooth roots that Dr. Sharp installs in your teeth to provide you with a strong, sturdy base for crowns or implant-based dentures.
Veneers
If you want to resolve slight cosmetic issues, like cracks, stains, crooked teeth, and/or gap teeth, Dr. Sharp may recommend veneers. Veneers are razor-thin, custom ceramic coverings that he adheres to the front of your teeth to mask imperfections.
Cosmetic dentistry is for everyone. If you want to make a change to your smile, whether big or small, Dr. Sharp can help. To schedule your consultation, book an appointment online or over the phone today.
Are you looking for general dentistry in Miami, FL? Book an appointment with us today.