Aesthetic Veneers Dentistry in Coconut Grove, FL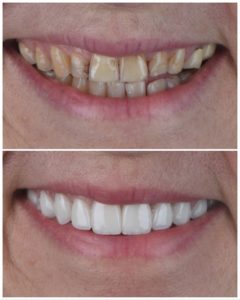 Even If Your Teeth Work Well, You Can Be Embarrassed By Cosmetic Flaws, Like Minor Cracks, Irregular Shaping, Gaps, And More. If You Dream Of A Perfect Smile Free Of These Flaws, Consider Seeing Bruno Sharp, CD, MS, DDS, For Veneers At Sharp Dentistry & Associates In Coconut Grove, Florida. Veneers Are An Easy Way To Fix Teeth Imperfections With Minimal Effort And Time. To Learn More, Contact The Team At Sharp Dentistry & Associates Over The Phone Via The Online Booking Tool.
What are veneers?
Dental veneers are paper-thin tooth coverings. They're made from porcelain or composite ceramic resin. Veneers hug the contours of your teeth to mask and correct smile imperfections like:
Minor cracks, chips, or fractures
Small or wide gaps
Slightly crooked teeth
Pointy teeth
Irregularly shaped teeth
Short teeth
At his practice, Bruno Sharp, CD, DDS, MS, also places veneers to hide dentin discoloration and heavy enamel staining that doesn't respond to bleaching.
He makes sure that the new veneers match or enhance your natural smile by customizing their color, shape, and size.
How do you place veneers?
If after your initial appointment, Dr. Sharp determines that veneers are right for you, he schedules you for two follow-up visits to place them.
During the first follow-up visit, your Sharp Dentistry & Associates team gently files away an extremely thin layer of your surface enamel. The goal is to make space for your veneers to rest comfortably against your teeth and sit naturally.
Next, your team takes impressions and digital images of your teeth, which they then send to the lab where engineers fabricate them to fit perfectly. Before you go home, Dr. Sharp outfits you with temporary veneers to protect your newly filed teeth.
When your veneers arrive a few weeks later, your team removes your temporary veneers and often re-etch your teeth for better adhesion. Then, they fit your permanent veneers to your teeth and make any necessary adjustments (e.g., trimming the veneers).
Once Dr. Sharp and his team are satisfied that your veneers are comfortable and look how you want them, he bonds them in place.
How long do veneers last?
Veneers are strong and stain-resistant. They typically last 10-20 years.
To extend their life and usefulness as long as possible, care for them by:
Practicing good oral hygiene
Scheduling regular dental cleanings
Avoiding hard or sticky foods
Not chewing on hard objects like ice, pencils, or popcorn seeds
Inevitably, your veneers will wear out, and you'll need new ones. When that happens, Dr. Sharp will be there ready to support and outfit you with attractive replacements.
Are you ready for a gleaming new smile? Don't wait any longer. Schedule an initial consultation with Sharp Dentistry & Associates online or over the phone today.
Are you looking for complete oral rehabilitation in Miami? Book an appointment with us today.