Aesthetic Dentistry located in Coconut Grove, Miami FL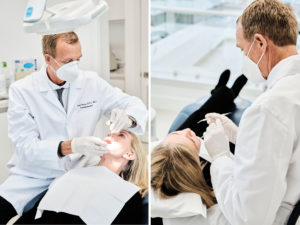 Are You Embarrassed And Inconvenienced By Missing Teeth Or A Compromised Smile? If So, You May Be Able To Restore It Via Prosthodontics With Bruno Sharp, CD, MS, DDS, At His Practice Located In The Coconut Grove Neighborhood Of Miami, Florida. There's A Reason Why The Team At Sharp Dentistry & Associates Are Known As The "Plastic Surgeons Of Dentistry." Restore Your Smile With Dr. Sharp And His Team Experienced Team By Booking An Appointment Online Or Over The Phone Today.,
What is prosthodontics?
Prosthodontics is a dental field recognized by the American Dental Association. It focuses on diagnosing, treating, restoring, and replacing missing or compromised teeth, oral tissues, or maxillofacial tissues.
The goal of a prosthodontist is to design and fit oral prosthetics, like dentures or veneers, for looks, and more importantly, function, health, and comfort.
How are prosthodontists different from regular dentists?
To be called a prosthodontist, a dentist must complete (in addition to their regular dental program) a three-year prosthodontic graduate program accredited by the American Dental Association.
During this time, they're specially trained to identify oral problems and replace oral structures using dental crowns and bridges, dental implants, and dentures, among other methods, such as:
Dental bonding
Enamel shaping
Fillings
Full-mouth reconstruction
Mouthguards
Maxillofacial prosthetics
Sealants
Splints
Veneers
Temporomandibular joint disorder treatment
Sharp Dentistry & Associates specializes in this type of dentistry, and the practice boasts numerous talented prosthodontists, including one maxillofacial prosthodontist.
Is prosthodontics right for me?
Do you think prosthodontics might be right for you? In general, prosthodontics may be right for you if you're experiencing any of the following symptoms or conditions:
Chipped, cracked, or broken teeth
Missing teeth
Loose or broken dentures
Jaw pain
Tooth pain or sensitivity
Difficult or painful chewing
Spots on your tongue or mouth
Sleep apnea
Cleft palate
Misshapen teeth
Discolored teeth
Dry mouth
Oral cancer
Teeth grinding
Of course, the only way to say whether or not you need prosthodontics is via an appointment with Dr. Sharp, so don't hesitate to book your visit today.
What will happen during a prosthodontics appointment?
When you go to see Dr. Sharp for prosthodontics, his team starts by asking about your concerns and your desired treatment outcomes. They'll also answer any questions you have about your symptoms and oral hygiene habits.
After your initial consultation, the team examines your mouth, teeth, and jaws. Then, Dr. Sharp discusses with you what treatments he recommends to best heal your mouth.
A pain-free, beautiful new smile is possible. To get started on yours, schedule an appointment with the team at Sharp Dentistry & Associates over the phone or via the online booking tool right now.
Are you looking for complete oral rehabilitation in Miami? Book an appointment with us today.