Prosthodontic Dentistry of South Florida
Prosthodontic Dentistry of South Florida is conveniently located in the Biscayne Bank Building in Coconut Grove/Miami, Florida. Dr. Sharp, and his associates; Dr. Segall, Dr. Ravazzi, Dr. Pasciuta, Dr. Aranguren, Dr. Mangan, and their staff are able to provide specialized, general and cosmetic dentistry, including crowns, bridges, porcelain veneers, implants, root canal treatments, pediatric dentistry, Invisalign® and more. We have prosthodontists, maxillofacial prosthodontists, a periodontist,  general dentists, an oral surgeon, an endodontist, and a full hygienist department to fulfill all your needs as patients.
Dr. Bruno Sharp top Miami dentist and Prosthodontic Dentistry of South Florida (PDSF)  associates are changing the lives of their patients every day.
As prosthodontists, they are specialists in the restoration and replacement of teeth, today's architects of a dental treatment plan and heralded as "the plastic surgeons of dentistry."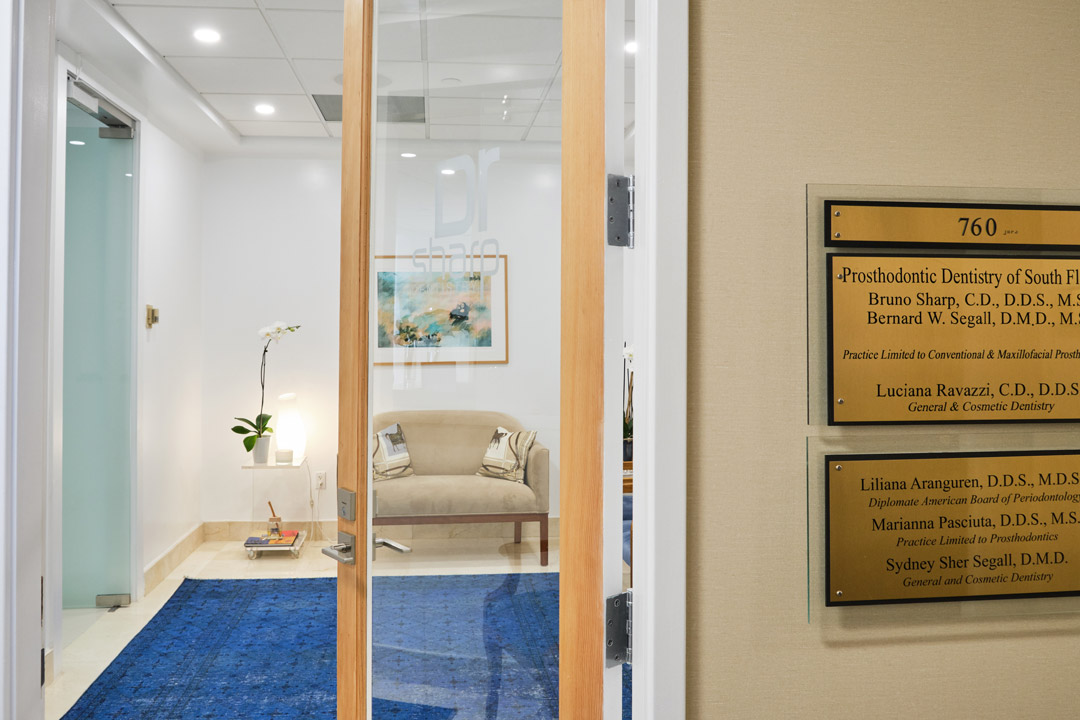 Prosthodontic Dentistry of South Florida
Extended education, experience, and rigorous training in an American Dental Association accredited graduate education program, provide Dr. Sharp - top Miami dentist and his staff with the special skills to understand and manipulate the dynamics of the smile. Their specialized training also includes the preservation of a healthy smile, the art of creating tooth replacement and treatment of the mandibular joint.
The prosthodontists at PDSF also help patients by restoring the full use of teeth damaged by nightly grinding, decay or nerve damage, traumatic injuries, gum disease loss of jawbone due to disease or birth defects, aging and bone shrinkage, oral cancer reconstruction, and continuing care.
For these treatment needs, Dr. Sharp (top Miami dentist & Coconut Grove Dentist) and Dr. Segall provide the necessary complex care management and supervision, as well as follow-up care. The Coconut Grove office is also equipped with the latest technology, including a new 3D and digital radiograph, and much up-to-date equipment to enhance our patient's visits and provide the best service possible.